Dining Rooms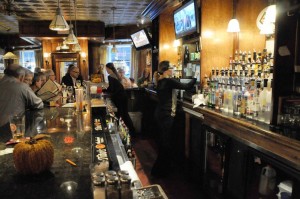 Bar
The moment you walk thru Marino's front door you are greeted in the restaurant's first dining room, which is also the home of Marino's famous "Martini Bar." This dining room is a great gathering place to experience some of the best that Marino's has to offer, including an original tin ceiling, brick work from the early 1900s, and old hometown photographs. The bar has a creative Martini List as well as a noteworthy Wine List all complemented by a multi-talented and energetic staff. Lastly, this dining room features six tables used for dining where customers can experience all that the bar has to offer while dining on Marino's delicious cuisine.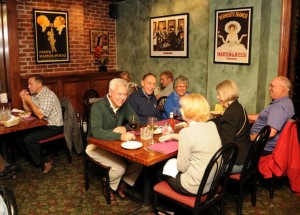 Backroom
The second dining room downstairs is what we like to call the "Backroom," which is tucked in the back of the restaurant. It seats up to 22 people comfortably and is perfect for every day dining as well as small gatherings and or parties. This dining room houses a hexagonal ceiling and chandelier, beautiful décor, and the restaurant's "wine cellar". The "Backroom" is known to be comfortable and charming, making it an excellent setting to experience the finest of what Marino's has to offer.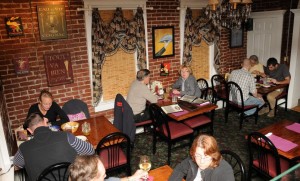 Upstairs Small Room
The upstairs houses two dining rooms as well. The first is a small dining room that seats up to 20 people. It is the perfect location for private business meetings, as it is equipped to host Audio Visual presentations with a ceiling mounted projection screen. It has several appealing corner tables available for a more personalized dining experience as well. This dining room has been described as inviting and welcoming, which is always complemented by a professional staff that is dedicated to providing personal and pleasurable service.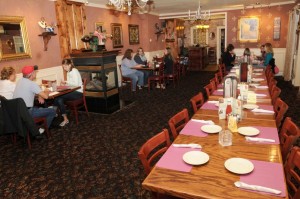 Upstairs "New" Room
This dining room was added on to the restaurant in 2007 and is referred to by our customers as the "New" room. It has a warm and welcoming setting, which is complemented with a fireplace, beautiful crystal chandeliers, and striking décor. This dining room seats up to 40 people and is the perfect location for private parties and banquets. The dining room is open on Friday and Saturday evenings for dinner service and is utilized for scheduled reservations and parties throughout the week. Additionally, the "New" room is equipped to host Audio Visual presentations, service bars, buffet lines, and so much more for customer convenience. Special catering and banquet planning services are available to our customers free of charge when utilizing the "New" room.