Our Story
Marino's Restaurant opened under shroud of mystery, a sense of excitement.
In 2004, Hornellians knew that restaurateur Fran Marino had bought the building on Loder Street in Hornell, but he wouldn't tell anyone what he was doing inside. He actually had the front of the building wrapped in sheets so no one could see inside. If anyone asked what he was doing, he would just wink and smile. Townspeople assumed it would be a restaurant, of course – a number of restaurants had thrived in the building in the past 125 years – but Fran just wouldn't say a word. Then, in September, he opened the doors and invited everyone in.
Marino's thrived and for more than ten years has been the area's most popular restuarant.
In 2016, Fran sold the restuarant to Hornellian Joe Shepard. Joe is at the restaurant daily, committed to the same excellence that made Marino's so popular.

The clientele is a great mix of locals and visitors; the colleges are nearby and the area's major employer, ALSTOM, is across the street. Visitors from large cities are often surprised to find such a gem on their travels – Marino's has creative Italian-American fare (Try the Alfredo Marino – you won't be sorry!) and a "big city feel."  
The Marino's building is a self-declared historical landmark. It housed many other businesses in the last 125+ years (restaurants, a drug store, a soda shop); members of our terrific senior community fondly remember past businesses and reminisce when they come in. Plus, Marino's is across the street from the Hornell Railroad Depot, which, of course, was once a functioning railroad depot and part of the major industry for this small upstate town.
Joe invites you to visit … and to visit often. The menu is marked with "Best Sellers" so you know what the favorites are. And you should make it your personal mission to try each one of them!
What else you might need to know: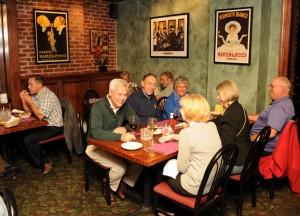 Wear whatever you like, but the attire is generally casual. Unless it is Prom; then you will be dazzled by bright colors and sparkling jewels!

We are handicapped accessible

Off-street parking is available

We offer dining room seating, takeout and catering

We specialize in lunch, dinner, a full bar and the best martinis in town (Try the chocolate martini!)